WIN-911 Industrial Realtime Alarm Notification
WIN-911® è una piattaforma di notifica allarmi real-time che funziona con il software di controllo già esistente, o con sistemi SCADA per il monitoraggio impianto, con lo scopo di avvisare il personale in caso di condizioni problematiche. Con WIN-911, gli operatori possono concentrarsi sui loro compiti, mentre il computer fa il monitoraggio…
I sistemi SCADA e ICS (Industrial Control System) sono normalmente composti da uno o più sistemi di supervisione che controllano il processo, una serie di controllori logici programmabili (PLC), un'unità configurabile che può controllare i processi industriali, e di un'interfaccia uomo-macchina (HMI) che converte i dati elaborati ad un operatore umano: in questi sistemi uno dei punti critici è il tempo in cui un allarme viene generato, remotizzato e gestito.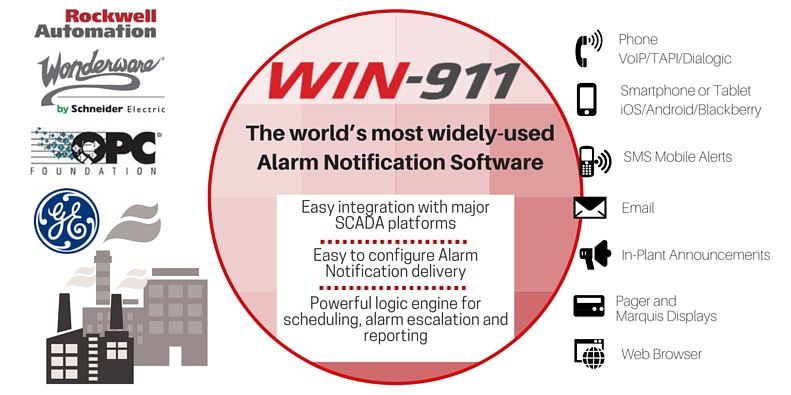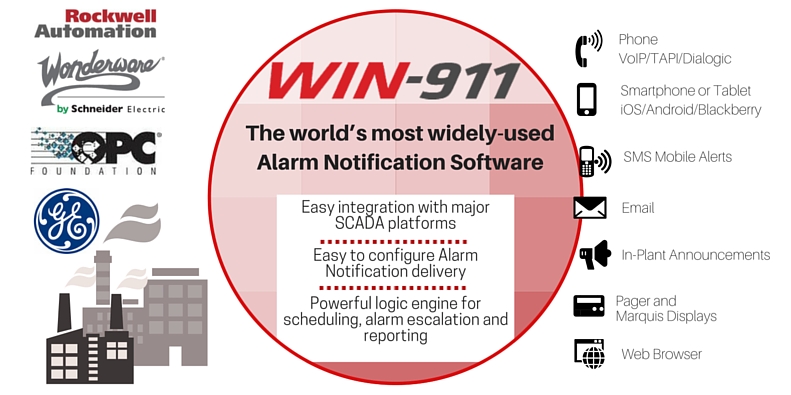 I sistemi SCADA possono controllare i processi in aree locali o in tutto il paese, rendendo quasi impossibile per i gestori degli impianti tenere d'occhio tutte le funzioni 24/7.
WIN-911® è un software di alarm notification real-time che funziona con il software di controllo già esistente, o con sistemi SCADA per il monitoraggio impianto, con lo scopo di avvisare il personale in caso di condizioni problematiche. Con WIN-911, gli operatori possono concentrarsi sui loro compiti, mentre il computer fa l'alarm notification.
Già testato e funzionante con le tecnologie di GE Digital, Rockwell, Siemens, B&R, Schneider, etc…
Win-911 – Industrial Realtime Alarm Notification :
AUMENTA
l'affidabilità delle notifiche di allarme
l'efficienza operativa
il tempo di risposta dell'allarme
RIDUCE
i fermi impianto
i costi operativi
i costi materiali
MIGLIORA
la sicurezza pubblica e del personale
i tempi di risposta in caso di allarme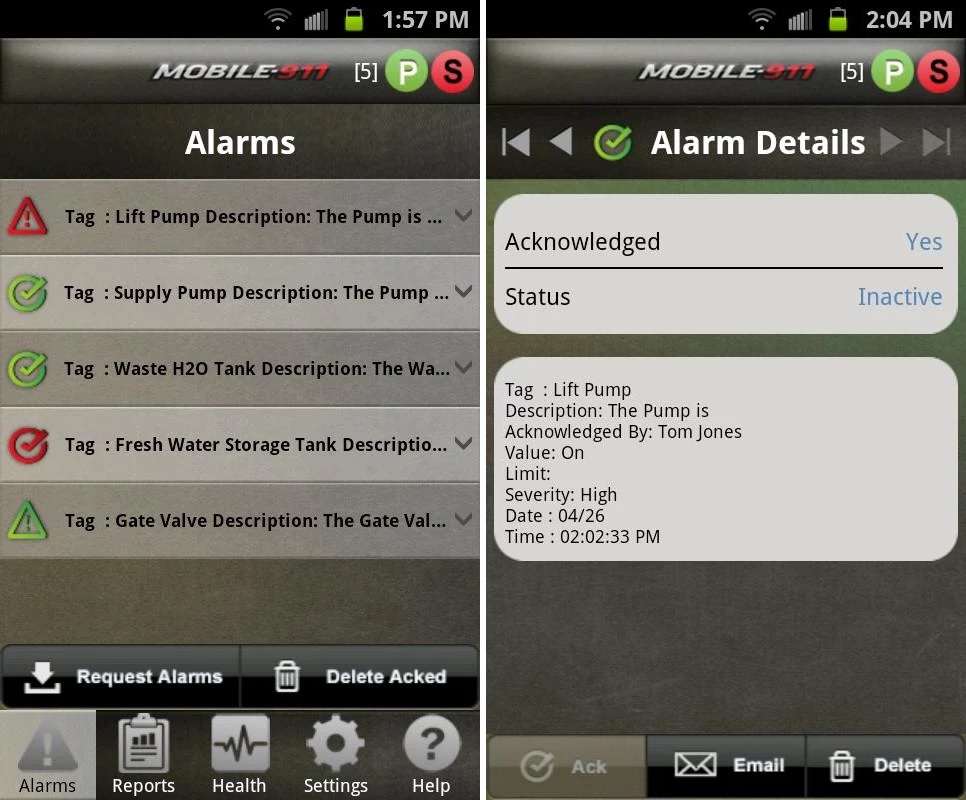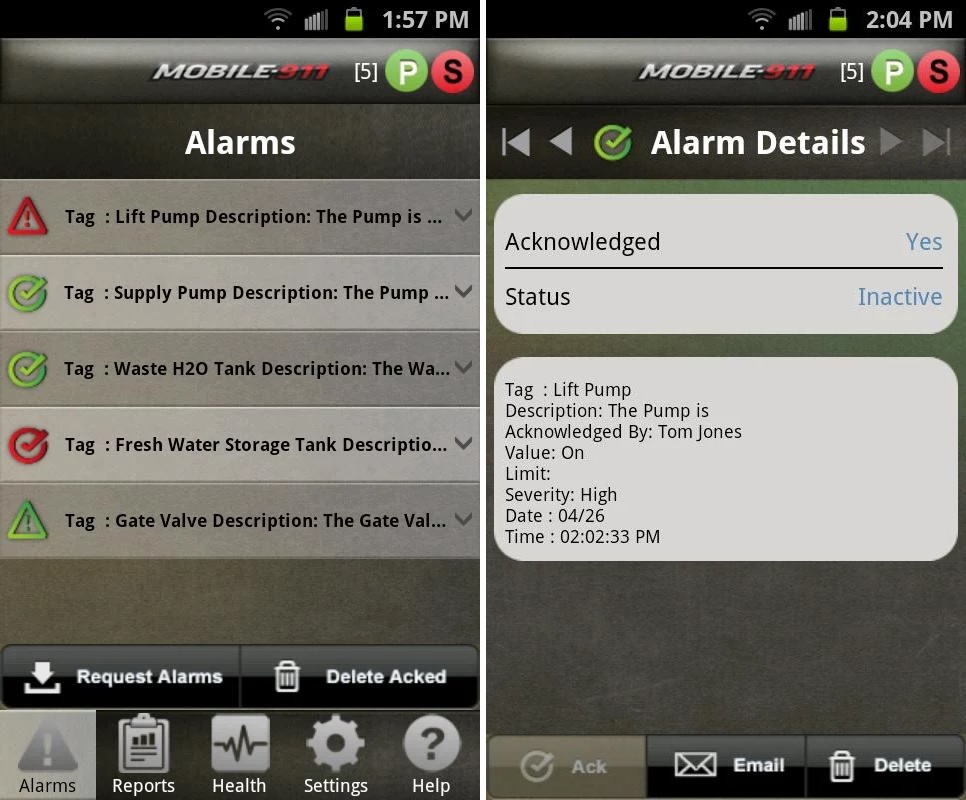 Features
NOTIFICATION OPTIONS
All notification options support single or bi-directional communications, acknowledgments, and custom formats.
Mobile-911 Smart Phone Apps for Apple or Android
SMS Text – supports Ethernet and serial based cellular modems
Email – Rich HTML or plain text (SMTP, POP, IMAP, SSL/TLS)
Voice – Text to speech, TAPI and VoIP (SIP) or analog phones (USB)
ESCALATION ENGINE
Drag and drop workflow creation
Vary notifications based on severity, acknowledgement, date and time, or any other configurable attributes
Create complex alarm escalation scenarios with rules based notification alarm workflows and if-then-else scenarios
NOTIFICATION MANAGEMENT
Create dynamic alert schedules to cover rotating shifts, vacation requests and on-call status
Supports 'if-then-else' scenario planning for complex notification strategies and timely alarm escalation
PERSONNEL MANAGEMENT
Unlimited contacts
Send alarms based on who is "on shift"
Role-based notification assignments
SCHEDULING
Easy to use calendar tools
Create complex rolling schedules
Create shift schedules
Web-based interface allows for quick schedule changes
REPORTING
Report templates allow rapid configuration
Plain text or rich text
Schedule reports according to "rules" – fixed
Periods, alarm conditions, or data values
Receive reports on any device
LOGGING
View, sort and print alarm history
Logs include notification attempts, confirmation, acknowledgements, events and error codes
Annotate each line with "notes" feature
Video Gallery
Come viene utilizzato WIN 911 nei vari settori Industriali? Guarda i video!