Le novità dell'ultima release
La nuova versione di questo utilissimo tool, Dream Report 2020 R2, migliora la collaborazione, la gestione delle notifiche e la condivisione delle informazioni per consentire agli utilizzatori di prendere decisioni informate sulla base dei dati di produzione.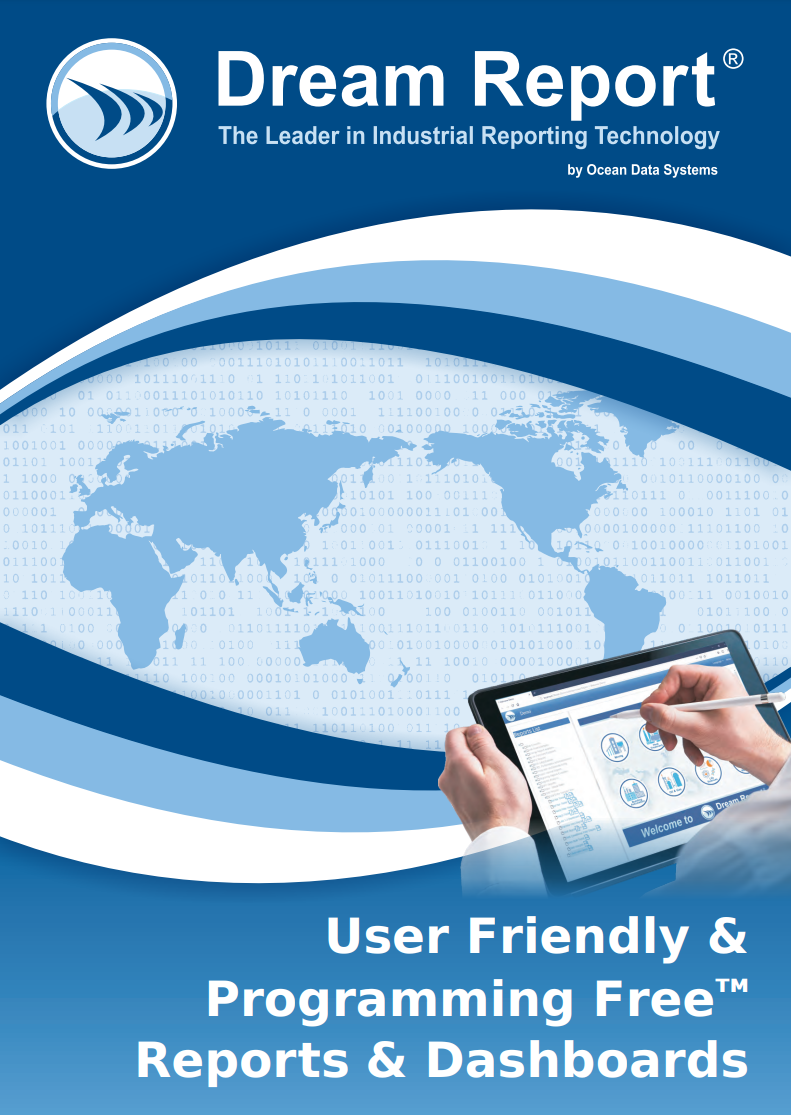 Sono state inoltre migliorate significativamente elaborazione, analisi e visualizzazione dei dati, tenendo in considerazione anche la qualità e la quantità dei valori industriali.
Tra le principali caratteristiche funzionali della nuova versione citiamo:
Notifiche automatiche e manuali all'utente nel portale web e via e-mail
Gestione della qualità dei valori – visualizzazione opzionale dei valori con diverse qualità
Analisi avanzata degli allarmi. Migliore conformità con lo standard ISA 18.2
Supporto delle unità per i driver di comunicazione
Registri estesi per l'audit trail (errori di comunicazione e altri)
Funzionalità SPC estesa in tabelle statistiche automatiche
Integrazione con Eurotherm Data Reviewer
Sono disponibili nuovi driver di comunicazione (PLC Rockwell, OPC UA rielaborato)
ANSI / ISA 18.2 Gestione degli allarmi - Alcune considerazioni ed utilizzo di Dream Report
Nel 2009, è stato rilasciato da ANSI / ISA, e nel 2016 è stato rivisitato, un nuovo standard, chiamato ISA 18.2, per la gestione degli allarmi generati sui sistemi di automazione e controllo di macchine ed impianti industriali.
ISA 18.2 copre la gestione dei sistemi di allarme per le industrie di processo.
Il tuo Report con pochi click
Dream Report è il primo software di analyitical reporting che non richiede la scrittura di codice, user friendly appositamente pensato per le applicazioni di automazione industriale.
È stato progettato per essere la soluzione più semplice per estrarre dati da qualsiasi sorgente (proprietaria o standard) automatizzando la creazione di report e distribuendoli a chiunque, ovunque e in qualsiasi momento.
Fondamentalmente ci sono due motivazioni che spingono ad elaborare Reportistica e Dashboard di analisi in Real-Time: la prima è la compliance, documentazione richiesta da enti specifici al fine di verificare il rispetto delle normative, la seconda è più strettamente legata al monitoraggio delle performance.
Features
Funzioni Calcolate
Funzioni di calcolo
valore corrente,  Massimo,  Minimo,  Media,  Somma,  Standard  Deviation,
Timestamp Associati 
Logged  Value  Counter
quante volte è stato riscontrato un valore
Duration Interval
calcola il tempo in cui un valore è all'interno di un intervallo
Counter, Difference or Period Totals
contatori, differenza tra due valori e rollover aware (per tracciare misure di energia e totalizzatori)
Funzioni avanzate
ON and OFF and Transition Counters
riporta il numero di transizioni di una variabile
Running Time
totalizza il tempo in cui una variabile è  stata attiva (ON)
Down Time
totalizza il tempo in cui una variabile è stata  inattiva (OFF)
System Availability
percentuale di tempo in uno specifico periodo durante il quale una condizione è stata riscontrata
Funzioni di Alarm Analysis
Alarm Counters
Calcola il numero di allarmi, con filtro, in uno specifico periodo
Funzioni SQL
Direct SQL Query, with Dynamic Tokens
Usa le variabili di Dream Report come item per una Query SQL
Funzioni di Energy Management (Facility)
Produced Energy – energia termica prodotta dal consumo di vari carburanti
Produced Emissions – emissioni per prodotti dal consumo di vari carburanti
Funzioni di Pulse Analysis
Excursion Analysis – funzioni di impulsi positivi e negativi, picco massimo e minimo conteranno le escursioni di variabile oltre il limite, in un periodo
Funzioni di Compound Data
Functions over a Data Group
queste funzioni calcolano massimo e minimo, media, somma e deviazione standard di un insieme di altri data item
Dati Manuali
Operator Entered Data
insieme di oggetti che consentono tramite il Web Portal di inserire date, stringhe, valori con range di validazione
Funzioni stringa
Text String Operations
Include concatenazione, estrazione e ricerca di stringhe e conversione verso e da valori numerici
Archiviazione dei Report e Distribuzione
archiviare Report in una directory
i report vengono automaticamente salvati in una directory predefinita e i nomi possono essere creati combinando una serie di qualunque di data, orario, batch ID, testo prefissato e valore di tag
distribuire Report
via e-mail, stampati, pubblicati su web
Cosa ti da Dream Report 4.81?
NEW FEATURES
Remote and Concurrent Development
Repository-based Project Configuration
Wonderware Online Historian Connectivity
GE SmartSignal Connectivity
GE Historian Performance Enhancements
New Donut Wizard
Alarm Filters Enhanced Interface
Search and Replace for SQL
Web Portal in EVERY License
Interfaces for SSO Integration
SQL Server 2016 Support
Remote and Concurrent Development
Remote development CALs
Check-out and Check-in functionality
Run-time based authorization
Studio deployment via Terminal Services
Studio deployment as Windows App
Secure – User authorization, ports, & encryption
Improved Connectivity
Online Historian Support o Wonderware Online InSight
Wonderware Historian Data Quality
GE SmartSignal Enhanced APIs
GE Historian "Keep Connection"
Dream Report Product Video Directory:
General Overview of Dream Report – (12 Minutes)
Create a Report in Under 5 Minutes – (5 Minutes)
Dream Report Success Stories – (20 Minutes)
Version 4.8 New Features – Remote and Concurrent Development & More – (9 Minutes)
Version 4.7 New Features – SPC, New Markets, Data Models and Ease of Use – (11 Minutes)
Version 4.64 New Features – (9 Minutes)
Version 4.6 New Features –   (50 Minutes)
Dream Report How-To Video Directory:
Accessing Data from SQL Databases with Dream Report – (15 Minutes)
Accessing Excel Data with Dream Report – (5 Minutes)
Automatic Statistic Table Object – Quick Data Aggregation & Analytics – (8 Minutes)
Clean In Place – A Batch Reporting Example – (9 Minutes)
Deeper Dive into Statistical Process Control (SPC) in Dream Report – (54 Minutes)
Electronic Signature – Electronically Approving Reports – (10 Minutes)
Interactive Web Portal – (34 Minutes) Manual Data Entry with Dream Report's
Web Portal – (8 Minutes)
Statistical Process Control (SPC) in Dream Report – (18 Minutes)
The Powerful Charting Capabilities of Dream Report – (35 Minutes)
Remote and Concurrent Configuration with Dream Report – (27 Minutes)
Step Table Statistical Object – See the Power of Dream Report – (11 Minutes)
The Official Solution for Wonderware – Video Directory:
Overview of Dream Report with Wonderware Products – (60 Minutes)
General Reporting with Wonderware Intouch – (12 Minutes)
General Reporting with Wonderware Historian – (10 Minutes)
Batch Reporting with Wonderware Intouch and Historian – (15 Minutes)
The Official Solution for GE – Video Directory:
Dream Report with GE Proficy Historian and Plant Apps  – (23 Minutes)
Dream Report with GE Plant Apps using Stored Procedures – (10 Minutes)
Dream Report with GE Proficy HMI/SCADA CIMPLICITY – (12 Minutes)
The Official Solution for Indusoft – Video Directory:
Dream Report with Indusoft Web Studio – (67 Minutes)
The Official Solution for Citect – Video Directory:
Dream Report with Citect SCADA – (15 Minutes)
Dream Report with Citect Vijeo Historian – (17 Minutes)
The Official Solution for PCVue – Video Directory:
Dream Report with PCVue SCADA – (24 Minutes)